Inducted into NC Business Hall of Fame: 1993
One of the country's premier marketing and clothing executives, Edwin A. Morris created the world's largest manufacturer of work and recreational clothing during the mid-20th Century: Blue Bell, Inc.
Junior Achievement
Born in Cabarrus County on Aug. 13, 1903, as the youngest of five children, Morris grew up picking cotton on a farm in Concord, receiving 50 cents for every 100 pounds of cotton he picked. "Once you've done that, everything else is easy," Morris said in a 1991 Greensboro News & Record interview. "I learned that it's good for you to have it kind of rough."
He received a bachelor's degree in business administration from Washington and Lee University in 1926. He attended Harvard Business School for a year before leaving to work for a Massachusetts textile firm.
It All Started With Overalls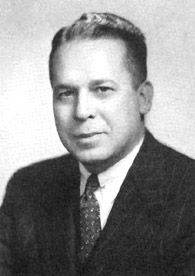 In 1904, C.C. Hudson and Associates launched the Hudson Overalls Company in Greensboro on the second floor of a grocery store. After buying out his partners, Hudson renamed the company Blue Bell for his newly trademarked Blue Bell Overalls. In 1918, sales totaled $156,000. The firm moved into its own plant.
In 1926, Robert W. Baker's company Big Ben Manufacturing Company (from Jellico and Middlesboro, Kentucky) bought the Blue Bell operation and consolidated headquarters in Greensboro under the Blue Bell Overall Company name. In 1936, J.W. Fox became president and with the purchase of Globe Superior Corporation that year, the company was renamed Blue Bell-Globe Manufacturing Company. In 1937, Edwin Morris joined Blue Bell-Globe Manufacturing as plant manager in Abingdon, IL. Four years later, he became executive vice president in charge of manufacturing.
The company reverted to Blue Bell, Inc. in 1943 after acquiring the Casey Jones Company of Baltimore. By 1947, the firm operated 24 plants. With the end of World War II, all clothing manufacturers turned their focus to civilian markets. In 1948, Edwin A. Morris became president and CEO of Blue Bell. Morris was a marketing whiz and saw potential in a little used Casey Jones brand: Wranglers.
Blue Bell was eager to challenge Levi Strauss and Lee in the western-apparel marketplace. It hired Philadelphia tailor Ben Lichtenstein, a.k.a. Rodeo Ben, the tailor who designed clothing for rodeo celebrities such as Gene Autry and Roy Rogers. The company then enlisted world-champion cowboys – including Jim Shoulders, Bill Linderman and Freckles Brown – to wear-test and endorse Wrangler jeans.
Morris also diversified the clothing line to dungarees, shirts, women's jeans, children's clothing, western clothing and much more. The firm had $53 million in sales in 1955, making the company the world's largest producer of work and play clothes. Morris added four new plants in his first seven years as president, bringing the total to 28 Blue Bell plants in seven states by 1955. He was elected chairman of the board in 1966 and remained CEO until 1971. Until his retirement in 1981, he served as chairman of the board of Blue Bell. In 1980, he was awarded an honorary doctor of law degree from Washington and Lee University, the same year that the E.A. Morris Charitable Foundation was established.
Personally frugal and unassuming, Edwin Morris nonetheless counted among his friends and associates leaders and emerging leaders in business, politics, and academia, including Jesse Helms, Lauch Faircloth, Terry Sanford, Joseph Bryan, and Jim Martin.
Ed Morris' personal experiences and challenges also colored his approach to life. "I'm a survivor," Morris said at age 92. He was well into senior citizenship when he was diagnosed with colon cancer, despite feeling healthy and leading an active life. When Morris' cancer was discovered, he went to Duke for a second opinion and guidance, then returned to Greensboro for surgery.
Though Morris' stay at Duke was brief, the doctors and staff impressed him. His initial donation of $1 million in 1978 to the cancer center has been followed by other gifts to improve the health and survival of cancer patients seeking treatment at Duke.
In addition to the Duke Comprehensive Cancer Care Center, the E. A. Morris Charitable Foundation has been a generous benefactor of the Greensboro Public Library, Washington & Lee University, the John Locke Foundation, and various other religious and civic organizations.
Edwin Morris remained involved in the Charitable Foundation until his death on July 31, 1998.
The E.A. Morris Fellowship for Emerging Leaders was established to honor the memory of Edwin A. Morris, and accepted its inaugural class of Fellows in the year 2006.
---
Sources: NC Business Hall of Fame; Greensboro News & Record